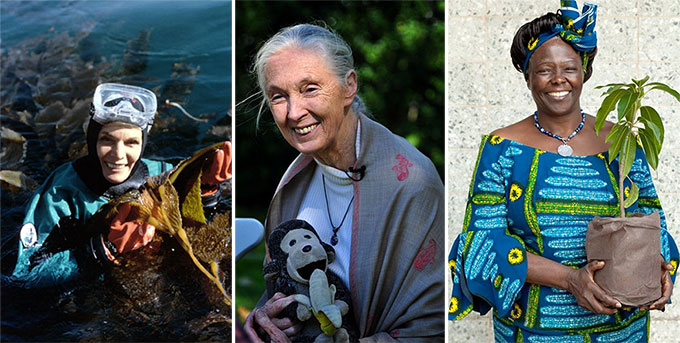 During April's Earth Month, we're celebrating the incredible women who are working to protect the environment and all of the creatures which share our planet. From groundbreaking primatologists to deep-sea explorers to determined activists, each of them has changed the way that we see the world — and our role in protecting it. Equally importantly, these women have shown all of us that we have an effect on the health of our plant: from the smallest decisions of our day-to-day lives to international policy — each of us can make a difference.
Below we share the stories of 12 women and explore their contributions to making a greener and healthier world. And, if you'd like to learn more about any of the featured women or introduce them to children and teens, after each profile we've shared several reading recommendations for different age groups, as well as other resources that celebrate these remarkable women.
For many books for children and teens about trailblazing women working to protect the planet, as well as on how kids can make a difference for the Earth, check out our special collection on the Top Children's Books on the Environment.
To learn about more trailblazing women, don't miss the first post in our series about Mighty Girl Heroes: Those Who Dared To Discover: 15 Women Scientists You Should Know.
WOMEN ENVIRONMENTALISTS YOU SHOULD KNOW
Anna Botsford Comstock (1854 – 1930)
Growing up on her parents' farm in New York, Anna Botsford Comstock developed an appreciation for the wonder and beauty of the natural world. When she married, she turned her observant eye to illustrating the insects that she and her husband studied, drawing thousands of detailed pictures, first for her husband's books and then for books they wrote together. After completing a degree in natural history in 1885, she started writing her own books, including The Handbook of Nature Study which is still considered a standard textbook today. She also broke new ground in the academic world, becoming the first female professor at Cornell University. Comstock is also famous for designing the first outdoor nature studies program for children, which took science out of the classroom and encouraged kids' love of the natural world. Her method became the model for nature studies programs around the world, helping to foster a new appreciation for the importance of conservation in the next generation.